Ian Bradley
Reporter, Nashville Business Journal
September 31, 2023
Original Article posted here.
---
Franklin-based Chartwell Residential today broke ground on a 40-acre residential community in Gallatin.
The Chartwell Commons at Green Lea will feature 528 rental homes spread across multifamily units, townhomes and single-family homes, according to a news release. Construction will be overseen by Franklin Construction Group and is expected to cost $142 million. The property sits near the intersection of Green Lea Road and St. Blais Road.
"We are meeting the urgent need for new and improved choices with Build-for-Rent communities, a departure from traditional multifamily communities," Stephen Walsh, Chartwell's development manager, said in a the release. "Chartwell's decadeslong history of developing residential properties in and around Nashville gives us a unique insight into the Middle Tennessee housing market, allowing us to better understand the local community's real estate needs and successfully deliver upon them."
The first townhomes are expected to be available to tour in August.
When completed, the community will feature 414 multifamily, three-story units spread across 32 buildings, with 138 attached garages. There will be 65 townhomes in 10 buildings, with covered carports and corner unit garages. The 49 single-family units will have covered porches and rear decks, and range in size from 1,700 to 2,500 square feet in one- and two-story homes with attached two-car garages.
The average monthly rents are expected to be:
$1,600 for apartments
$1,750 for townhomes
$2,400 for single-family homes
The Chartwell Commons at Green Lea will also have a community center with a 24-hour fitness center, an expansive covered patio with a fireplace and a pool. The community will also have a dog park and playgrounds.
Chartwell Residential is involved in multiple construction projects throughout Middle Tennessee, including three apartment projects, all with over 300 units.The company has over $600 million in development projects throughout Middle Tennessee. Franklin Construction Group, the company's in-house construction firm, has more than $360 million in active construction projects.
The added housing supply will be welcomed in the community. A recent report from Greater Nashville Realtors found there were 8,204 homes available on the market throughout all of Middle Tennessee, an increase over recent years (there were 3,624 homes in December, 2021), but is still below pre-pandemic numbers.
Gallatin has seem impressive growth in recent years. The city's population grew from 34,259 in 2015 to 46,902 in 2021, according to the U.S. Census Bureau. Meta Platforms Inc. (Nasdaq: META), formerly known as Facebook, plans to invest nearly $1 billion in the community to build a 1.6-million-square-foot server farm to store data from users across multiple platforms. It's one of the largest projects in the region. The first building is expected to be completed in the first half of this year.
Featured images above and below are a rendering of the homes at Chartwell Commons at Green Lea in Gallatin from CHARTWELL RESIDENTIAL.
---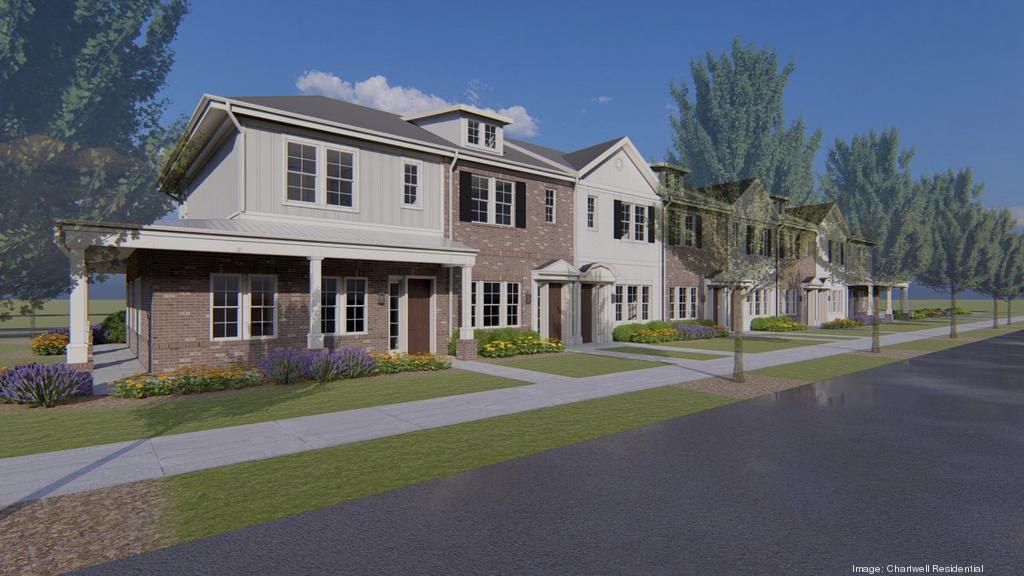 ---