John Nelson
Southeast Multifamily & Affordable Housing Business
July / August
Original Article posted here.
---
Nashville has become a destination for apartment renters looking to take advantage of the city's premiere employers, professional sports teams and picturesque settings along the Cumberland River. The population density of the Music City is growing by the day, and the heightened demand for housing is allowing landlords to push rental rates to record levels.
Asking rents rose 17.4 percent year-over-year at the end of April, according to Yardi Matrix, a real estate analytics and research firm based in Santa Barbara, California. Nashville's rent growth surpassed the national figure of 14.3 percent in the same time frame.
While that rate of growth may appear unsustainable at first blush, multifamily professionals are quick to point out that Nashville's rental rates still have headroom, especially when compared to its peer markets.
"Our general thesis is Nashville's rent growth has legs," says Ben Schaedle, partner at local development firm Chartwell Residential. "While our rents have grown tremendously, we're still below other Sun Belt cities that are more established than Nashville."
Nashville's relative affordability transcends other markets. Through April, Nashville renters were paying an average of $1,591 per month compared with the U.S. average of $1,659, according to the latest Yardi Matrix data. Renters who are moving to Nashville from larger markets are not balking at the city's current rental rates because they are still a discount from where they're moving, despite the rapid escalation in recent months.
"If you lived in Nashville your whole life, then rents are eye-popping, but much of the population and the new growth is coming from folks who have not lived in Nashville their whole lives," says Robert Stickel, executive vice chair for Cushman & Wakefield's Sunbelt Multifamily Advisory Group. "They look at these rates as relative value from New York, California and Chicago. It's just a matter of perception."
Liz Palmer, director of development in Tennessee for Charleston-based developer Middle Street Partners, says that with Nashville's groundswell of new construction in recent years, the quality of the new communities coming online is putting an upward pressure on rents.
"Nashville hasn't seen significant high-rise residential development until the past few years, and those are obviously going at a premium," says Palmer.
She adds that the Nashville metro area is experiencing a supply-demand imbalance for residences of all asset classes. As of first-quarter 2022, Nashville's occupancy rate stood at 95.5 percent, an increase of 42 basis points year-overyear, according to the Greater Nashville Apartment ssociation (GNAA).
Underpinning the multifamily market's healthy absorption and rental rate hikes is the metro area's strong employment base. The Nashville-Davidson-Murfreesboro-Franklin metropolitan statistical area's (MSA) unemployment rate registered 2.8 percent in May, 80 basis points below the U.S. unemployment rate of 3.6 percent, according to the U.S. Bureau of Labor Statistics (BLS). As of June, the MSA's total nonfarm employment was up 6.7 percent year-over-year.
"Ultimately, sustainable growth of the housing market isn't possible without strong employment growth," says Andrew Donchez, principal and head of development at SomeraRoad, a multifamily developer that has a few high-profile developments underway in Nashville.
Nashville added 66,800 net new jobs between June 2021 and June 2022, according to BLS preliminary data. The city's tourism industry has rebounded to near pre-pandemic levels of employment, and the market has also seen strong gains in the financial and business services and tech sectors. Headlining the fi eld is Oracle's $1.2 billion corporate campus underway on the east bank of the Cumberland River.
Palmer says that while the addition of the Oracle workforce will be a boon for the multifamily market as people move to the city from around the globe, the city's established employment base is far from a one-trick pony.
"Nashville has always had an extremely diverse economy," says Palmer. "We have healthcare, legal, the music industry and an incredible number of universities and schools in the Middle Tennessee area."
Employers Attracted to Popular Metros
Amazon is anchoring Nashville Yards, a mixed-use development underway by Southwest Value Partners in downtown Nashville. The Seattle-based e-commerce giant, which chose Nashville for a large office presence during its HQ2 campaign, will occupy 1 million square feet of office space across two towers upon completion.
Months after delivering its first tower at Nashville Yards, Amazon hit pause on construction of its second tower to assess the shifting office-utilization landscape in the wake of the pandemic.
Ian Anderson, director of the Cushman & Wakefi eld Multifamily Advisory Group, says that the work-from-home phenomenon has altered the paradigm of the office sector and has also directly impacted the ultifamily industry as workers are proving to mobilize even more than in years past.
"In the past, people would move to a city because that's where the jobs were, but now post-graduates are moving to the city where they want to live and then they'll find a job after," says Anderson. "Companies have caught on and are moving to markets like Nashville where they know it's a hot market with an influx of young workers."
Nashville has experienced robust population growth in the past decade. According to the U.S. Census Bureau, the city's population rose by 17.9 percent from 2011 to 2021. This rate of growth is more than three times the national population growth during the same period (5.7 percent). Outside of employment opportunities, Palmer says that people continue
to flock to Nashville because of the appealing lifestyle for both young professionals and families alike.
"We have an abundant amount of green space, which young professionals, families and empty nesters all love," says Palmer. "In downtown we have the Cumberland River, Nissan Stadium, Bridgestone Arena, Vanderbilt Stadium and Nashville FC's Geodis-Park in Wedgewood-Houston. People are moving here for both professional opportunity and personal opportunity, which has been a game changer."
New Communities Abound in Nashville
With robust demand for multifamily housing in Nashville, developers are busy moving dirt around the metro area to adequately house the swelling number of renters. According to a GNAA survey, the Nashville MSA had 29,390 units under construction at the end of the second quarter. And Yardi Matrix reports there are another 65,000 in the planning or design stages.
"The units that are in the pipeline are necessary for the amount of growth we have in Nashville with the recent job announcements and all the people moving here," says Anderson.
"Nashville's story is a story of growth, and we can only build housing so fast," adds Ben Schaedle of Chartwell Residential, which has approximately 1,200 multifamily units underway in the Nashville area. "From a supply side, we are still light relative to the demand."
There are nearly 3,000 units under construction in downtown Nashville alone, according to Yardi Matrix. Anderson says that Nashville's urban core has transformed from a hip 18-hour market to a true 24-hour destination in the past couple years, despite the pandemic.
"The fabric of downtown has changed drastically. It has grocery stores and full live-workplay developments like Nashville Yards," says Anderson.
"It's not just a commuter market where you drive in for work and drive back out to the suburbs to live. There are plenty of high-rises that are being built to meet [housing] demand."
SomeraRoad is underway on Prima, the first of four towers within the Paseo South Gulch development. The developer is aiming to complete the 278-unit tower in the first quarter of 2024. SomeraRoad recently delivered the adaptive reuse of the historic Voorhees and Bowtruss buildings as part of the development, both of which house retail tenants.
In spring 2024, the company also expects to open Emblem Park, a 346-unit community that broke ground in May. The Class A, $108 million property, which will also feature 13,000 square feet of adaptive reuse commercial space, is located in the city's emerging Wedgewood-Houston neighborhood.
"Wedgewood-Houston is one of the most interesting and dynamic neighborhoods in Nashville. It provides ease of access to downtown, walkability to great restaurants, bars, art galleries, coffee shops and recently completed corporate headquarters for Live Nation and Apple Music," says Donchez. "Emblem Park will be an anchor on the east side of WedgewoodHouston, further adding to the neighborhood's
vibrancy."
Anchoring the Wedgewood-Houston neighborhood is Geodis Park, home arena for MLS club Nashville FC. The newly delivered venue features 30,000 seats, making it the largest soccer-specific stadium in the country. Another development underway in the district is The Finery, a mixed-use project by Hines and Cresset Real Estate Partners that will include a mass timber office building and 383 apartments.
On the outskirts of Wedgewood-Houston, Alliance Residential recently purchased a site to develop the 302-unit Broadstone Berry Hill. The Scottsdale, Arizona-based developer has also recently opened Broadstone SoBro and will soon open Broadstone Centennial in Midtown.
Developers are rapidly building density in the suburban nodes around Nashville as well. Chartwell Residential is developing Kedron Square, the only mixed-use development in the suburb of Spring Hill. The company is building the 294-unit Chartwell at Kedron Square within the development, which will also include seniors housing, two hotels, offices and retail space.
Also in Spring Hill, Chartwell Residential is developing Chartwell Commons at Beechcroft, a 124-unit build-to-rent (BTR) development, which is a first for the company. Ben Schaedle says that an advantage of developing BTR versus traditional multifamily is that BTR developers can open units for occupancy in phases.
"Chartwell at Beechcroft is under construction, and first homes are set to be delivered in September," he says. "Final completion is approximately eight months after that."
Middle Street Partners is targeting Nashville with two communities underway. In December 2021, the Charleston, South Carolina-based developer broke ground on Phase I of Crossings in Antioch, and in the fall the company plans to begin construction on Dickerson on the east side of Nashville.
"Generally speaking, these two projects are similar: offering a mix of studios, one-, twoand three-bedroom floor plans with amenities for our tenants — fitness centers, pools, lounges and common areas," says Palmer. "But we look at the design of each project and location uniquely and try to pick up on characteristics of that specific market."
Palmer joined Middle Street in 2021 to lead the developments underway in Nashville, as well as an apartment community in Chattanooga. She estimates that the first phase of Crossings will open in late 2023, and the second phase will begin construction in early 2023, but those timelines could change. Middle Street plans to open Dickerson in late 2024.
Developers Face SevereHeadwinds
The fly in the ointment that developers across the real estate continuum are contending with is rising construction materials pricing, which is throwing uncertainty into the mix when budgeting for projects. According to the BLS, the Producer Price Index (PPI) for construction materials rose 11.1 percent year-over-year in June.
Multifamily developers have had to think outside the box to overcome pricing headwinds. Will Schaedle, partner at Chartwell Residential, says that his fi rm's development projects are being constructed by Franklin Construction Group, the company's in-house construction division, in an effort to control costs. He adds that successful contractors are currently planning ahead more than ever, and buying ahead.
"We found the best way to combat rising prices from a material standpoint is just being as proactive on purchasing as you can be," says Will Schaedle. "A year ago, you might have bought [materials] one year into a project, but now you might buy in the fi rst 30 days. It involves a little pre-planning on stored materials, site logistics and storage."
"We try to do a good job of tracking the supply chain," adds Ben Schaedle. "The supply chain is just as volatile as the commodity pricing, so we make sure we have materials onsite in time to avoid delays."
Even with a heavy development pipeline, overbuilding in the market isn't seen as a possibility because of the heavy demand for housing in Nashville. Donchez says that addressing the housing shortage responsibly, though, is one of the biggest obstacles for developers.
"The challenge will be meeting that demand and allowing the city to continue to grow smartly while addressing all of the challenges that come along with such rapid growth in the midst of a looming period of economic uncertainty and challenges," says Donchez.
Interest Rate Hikes Could Dampen Sales
Nashville is coming off a record year in terms of investment sales. In 2021, the metro Nashville area recorded $3.6 billion in sales, according to Yardi Matrix. Through April 2022, the market had sales eclipse $1 billion year-to-date, which is almost double the same period during the record 2021 year.
In terms of pricing, the price per unit for trades in 2022 is up 36 percent from the beginning of the year. The high watermark transaction this year was Regional Management's purchase of Mandolin at Stream Valley, a Class A community in Franklin that delivered in 2021. The property traded for $390,000 per unit for a total of $93.6 million, according to Yardi Matrix.
Accent Edgewood in Wedgewood-Houston sold for $77.6 million, or $329,000 per unit. Passive Investing purchased the asset using crowdfunding investors and equity from Acre Credit Investments. The deal was closed before the certifi cate of occupancy was issued.
"That trend is dying down now," says Anderson. "With the volatility of interest rate hikes, we probably won't see that on the pre-CO side for quite some time."
Brokers interviewed for this story don't anticipate Nashville's 2022 sales levels to surpass 2021 because of general uncertainty, despite the assets appreciating demonstrably in terms of pricing. Cushman & Wakefield's Stickel says that if volume doesn't exceed 2021 sales, it's not a referendum on the Nashville multifamily sector but because of national and global economic headwinds.
"We've been setting records year-over-year for several years now," he says. "Even despite COVID-19, we've had strong transaction volumes — eventually that has to change. It's not a fundamental issue, it is just a capital markets issue. The cost of debt has risen substantially and swiftly, and that has created a dislocation. There will continue to be trades, but there's certainly disruption."
In the Federal Open Market Committee (FOMC) meeting in June, the Federal Reserve took swift action to battle record-breaking inflation by raising the federal funds rate by 75 basis points, the largest single rate hike since 1994. The Federal Reserve boosted the rate by another 75 basis points at its July FOMC meeting.
The 10-year Treasury yield, a benchmark rate for long-term financing, jumped from 1.63 percent at the beginning of the year to 2.64 on July 29, a 101 basis-point hike in seven months. The rate peaked in mid-June at 3.5 percent. Similarly, the standard rate for floating-rate debt, the 30-day average for SOFR, has risen from basically zero at the beginning of the year to 1.55 percent on July 29.
David Stollenwerk, first vice president of investments at Marcus & Millichap, says the increase in cost of capital is causing investors to re-run their numbers and is disrupting negotiations in real-time.
"We've seen sellers hit the pause button due to buyers proposing deal terms that would have never been proposed 90 days ago. Recently, an $80-plus million deal fell out of contract due to the increased interest rates, which compressed the buyer's yield to a point that required them to re-trade or back out," says Stollenwerk. "We believe the second half of the year is going to be a challenge to reach last year's sales total — not because of a bad market, but because of the Fed."
Our general thesis is Nashville's rent growth
has legs.''

Ben Schaedle, partner at Chartwell Residential
---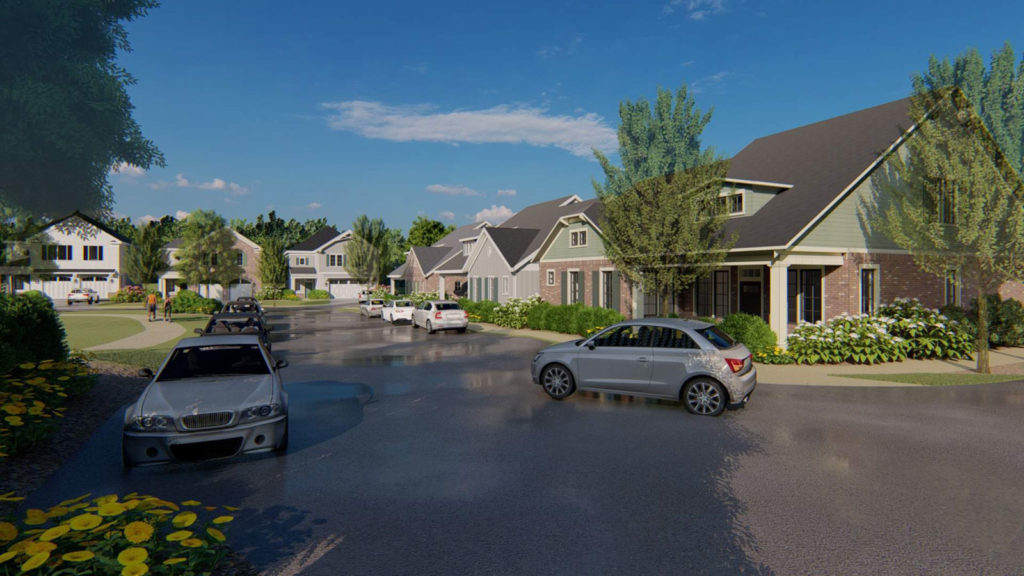 Chartwell Residential is developing Kedron Square, the only mixed-use development in the suburb of Spring Hill, Tenn. The company is building the 294-unit Chartwell at Kedron
Square within the development, which will also include seniors housing, two hotels, offices and retail space.
---
NASHVILLES'S
ECONOMIC METRICS
2021 MSA Population: 2.01 million
2010 MSA Population: 1.65 million
Average Apartment Rental Rate: $1,563
Vacancy Rate as of Q2 2022: 95.6%
YOY Nonfarm Job Growth (2021 to June 2022): 6.7%
Median Household Income: $62,515
Unemployment Rate (May 2022): 2.8%
Sources: United States Census Bureau; Bureau of Labor Statistics; Yardi Matrix; Greater Nashville Apartment Association